FROM CLICK TO SHIP AND EVERYTHING IN BETWEEN
Introducing ECOMPLETE, an innovative solution that helps companies improve existing ecommerce platforms or enter into ecommerce for the first time. Designed as a modular approach, in which companies utilize only the components needed, ECOMPLETE is created to be both flexible and turnkey.  Modules include Material Handling Equipment and Automation, Operational Readiness and Launch Support, Order Management Software, WMS/ERP Integration, WCS/WES Software, Site Acquisition, Incentive Negotiation, and Front End Store Development. From implementation through the finish, ECOMPLETE takes a fraction of the time of traditional projects, enabling ecommerce operations to be up and running  in remarkable time.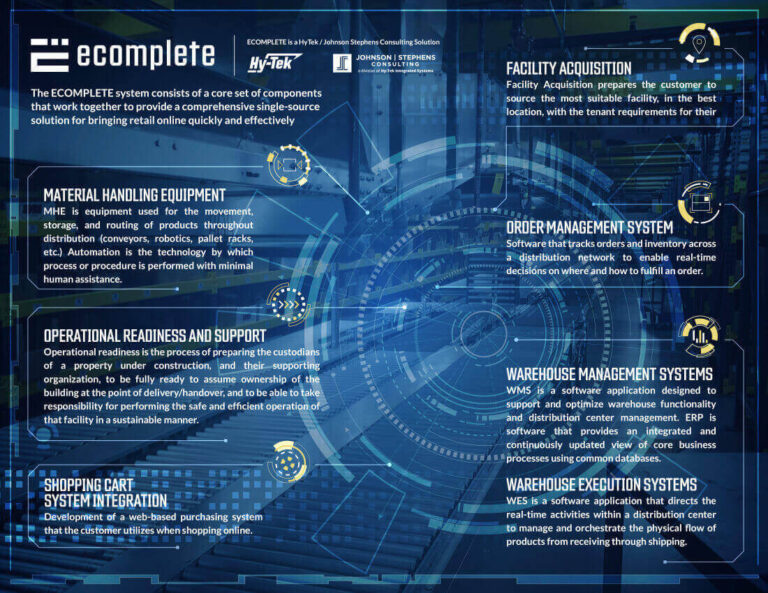 With years of experience in retail order and warehouse management, and in light of the recent closures of traditional brick and mortar retail stores due to the COVID-19 pandemic, Hy-Tek and Johnson Stephens Consulting recognized an opportunity to bring a comprehensive and quick to implement fulfillment solution to market: ECOMPLETE
Who will benefit from ECOMPLETE?
Businesses with limited or non-existent eCommerce
Businesses that have been limited by their centralized distribution network
Companies that need to make changes quickly
Retail
Distribution
3PLs
Alcohol
Food
Theme Parks
Cannabis
Religious Organizations
Specialized Goods
About Johnson Stephens Consulting
Johnson Stephens Consulting, a division of Hy-Tek Integrated Systems, is a supply chain operations consultancy that provides clients with cost-effective, service-focused solutions. Opportunities include supply chain network optimization, facility planning & design, WMS, TMS & LMS services, labor-management engineering, LEAN distribution, and operations excellence. JSC professionals have completed over 400 projects and served over 200 different retailers, wholesalers, e-commerce/direct to consumer companies, 3PLs, and consumer product distributors.
About Hy-Tek Material Handling
Hy-Tek is the premier single-source provider of material handling solutions for a wide range of industries including manufacturing, distribution, retail, construction, food, electronics, and automotive. Since 1963, Hy-Tek and its best-in-class industry partners—including manufacturers of industrial equipment; conveyor systems; automated storage and retrieval systems; rack, and shelving—have been providing customers large and small with turnkey solutions. From customized one-of-a-kind handling and storage systems to pre-assembled buildings and off-the-shelf products—Hy-Tek's experienced team of engineering, sales, operations, and project management professionals partner with customers to help enhance productivity, streamline processes, and boost profitability.
Do you have any questions? 
REQUEST A FREE CONSULTATION