JLG® scissor lifts deliver long-lasting performance for a more productive day. This type of aerial work platform lift is ideal for indoor maintenance or outdoor construction tasks. Electric scissor lifts have longer runtimes and promote quieter working environments. Engine powered scissor lifts traverse rough terrain, and the platform lifts plenty of tools and people to height. Buy scissor lift equipment from JLG to get reliable, serviceable options backed by industry-leading customer support.
Engine Powered Scissor Lifts
JLG® engine powered scissor lifts are chosen for applications that require more workspace and more lifting capacity. The LRT Series and MRT Model both provide a larger work area and generally higher load capacities than boom lifts. Both deliver exceptional terrainability and gradeability, making it easier to maneuver through the roughest job sites.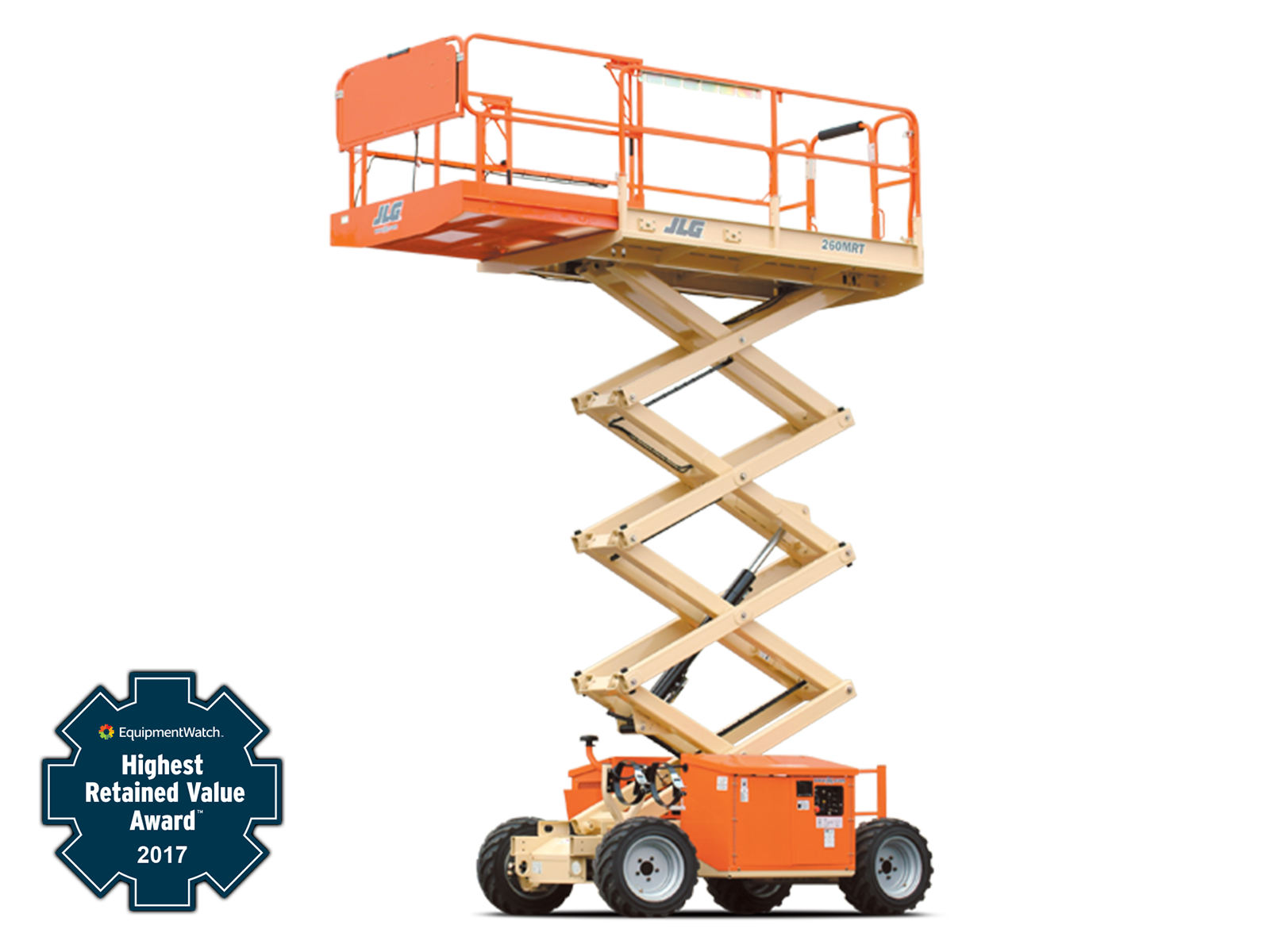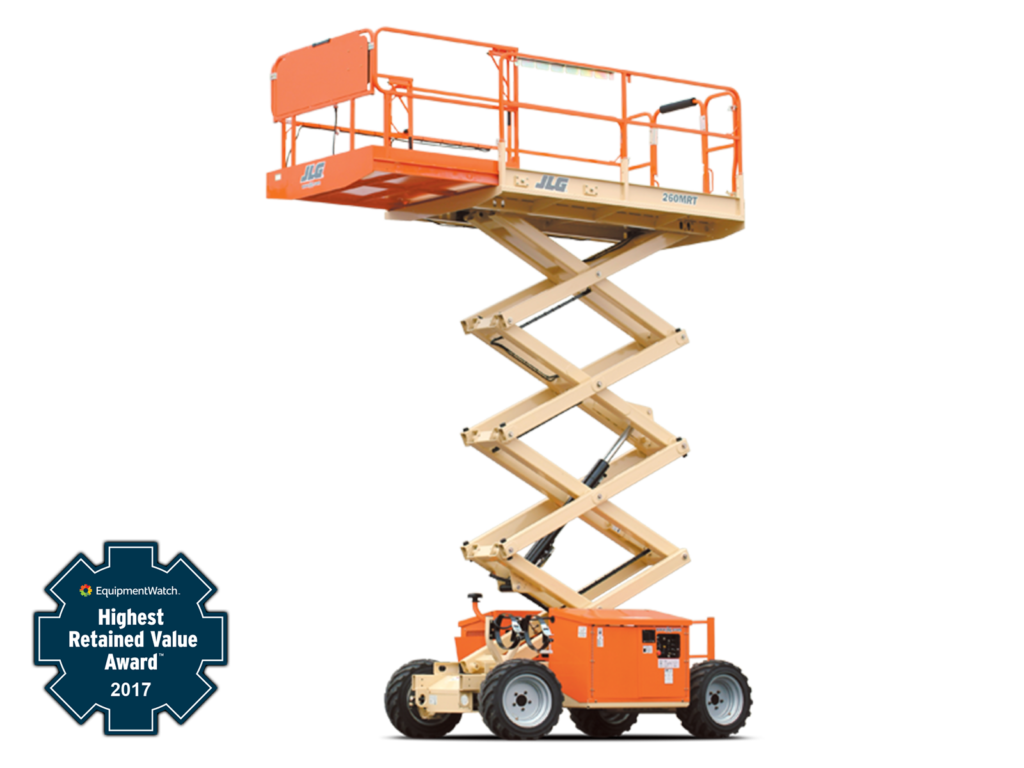 The 260MRT delivers exceptional mobility thanks to its narrow design. And its large work platform with roll-out deck extension keeps everything you need within reach.
Platform Height: 26 ft
Machine Width: 5 ft 9 in.
Platform Capacity: 1250 lb / 566.99 kg

Narrow 69 in chassis fits into spaces other scissor lifts can't

Large work platform and 1,250 lb platform capacity so you can be more productive

Standard four wheel drive and 35 percent gradeability keep you going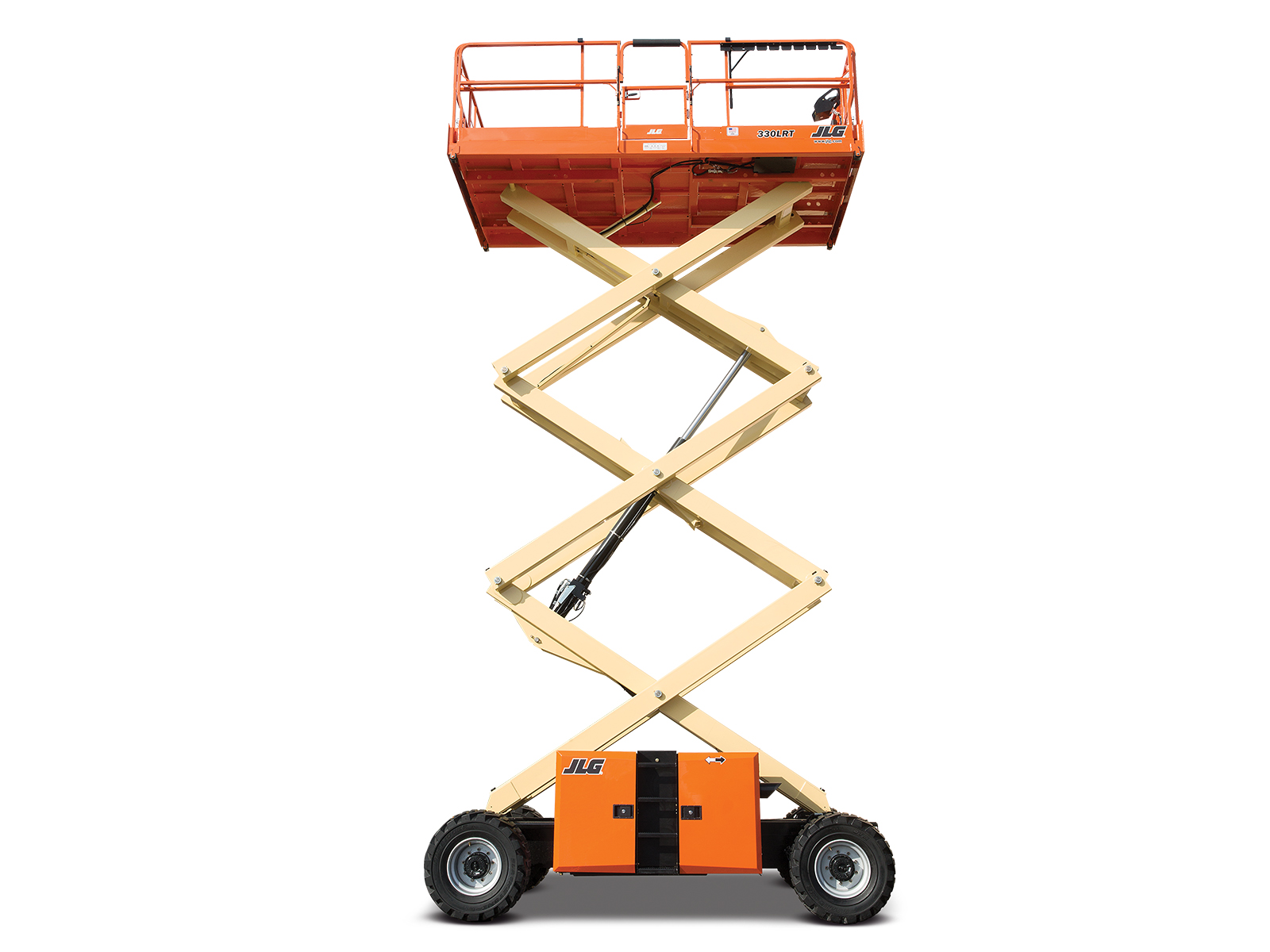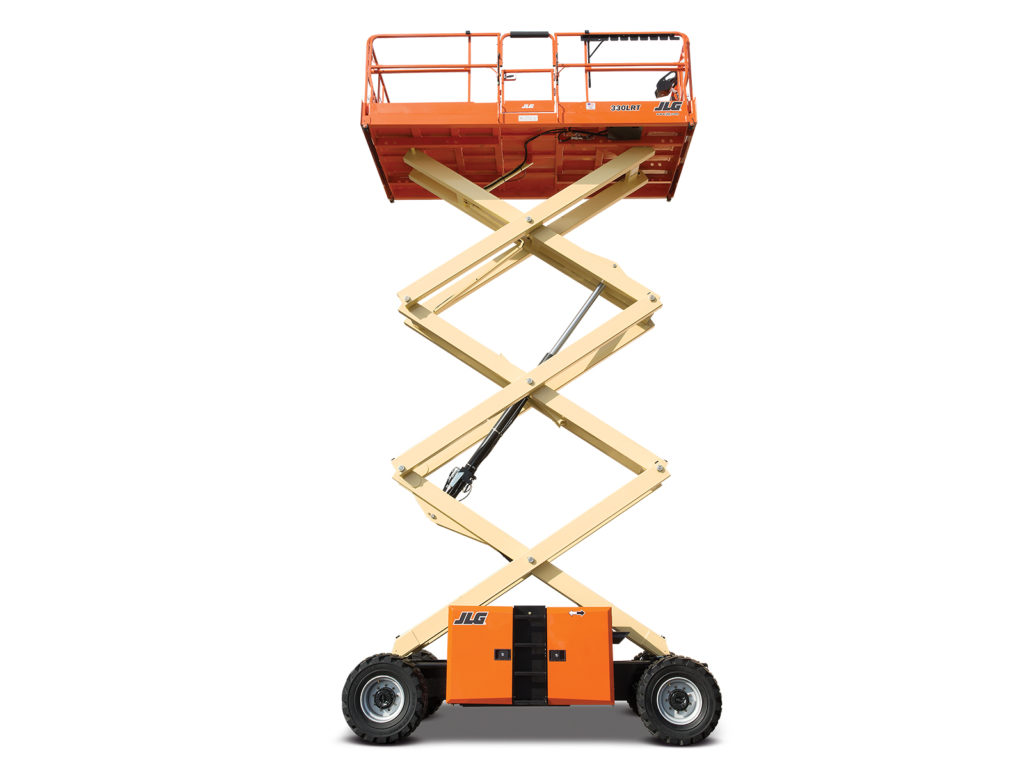 With JLG® LRT Series scissor lifts, you have the power you need to handle uneven surfaces and congestion on jobsites. Set up is quick and efficient with the optional one-touch leveling jacks. 
Available Models: 330LRT, 430LRT & 530LRT
Platform Height: 32 ft 10 in – 53 ft
Machine Width: 7 ft 7 in. – 7 ft 9 in.
Platform Capacity: 1500 – 2004 lb

Enhanced Stability on Uneven Surfaces – Standard oscillating axle gives you better traction and grade climbing ability

Smoother Extension Deployment – New platform is designed to shed debris and allows for smoother extension deployment

Better Serviceability – Fully accessible hydraulic and engine compartments are easier to service
Get more uptime and less recharging with JLG® electric scissor lifts. These machines are designed so you have fewer scheduled services, a quieter work area, less dependency on hydraulic oils and zero emissions. Also, the innovative operator controls and compact dimensions make this series extremely mobile. Boost productivity and operator confidence on the job by choosing an electric man lift from JLG.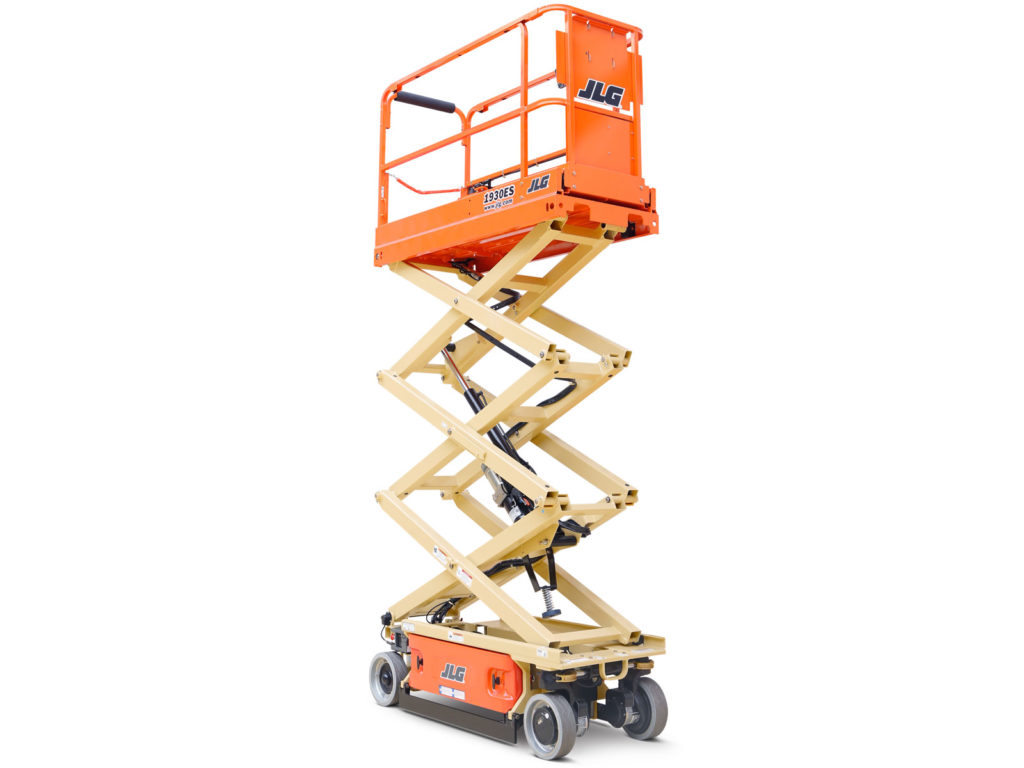 Experience the benefits of reduced charging time and longer runtime with the ES Series. Available in five models with up to 1,000 lb capacity and full proportional controls that come standard for ease of operation. Optional accessory packages enhance your productivity.
Available Models: 1930ES, 2032ES, 2632ES, 2646ES & 3246ES
Platform Height: 18 ft 9 in. – 31 ft 9 in.
Machine Width: 2 ft 6 in. – 3 ft 10 in.

Quieter, cleaner operation for a variety of environments

Electric drive and integrated components with only two hydraulic hoses and four hydraulic fittings on the entire machine will keep you on the job longer and reduce your operating costs by reducing chances for leaks and service calls

Narrow width fits through most standard doorways and tight aisles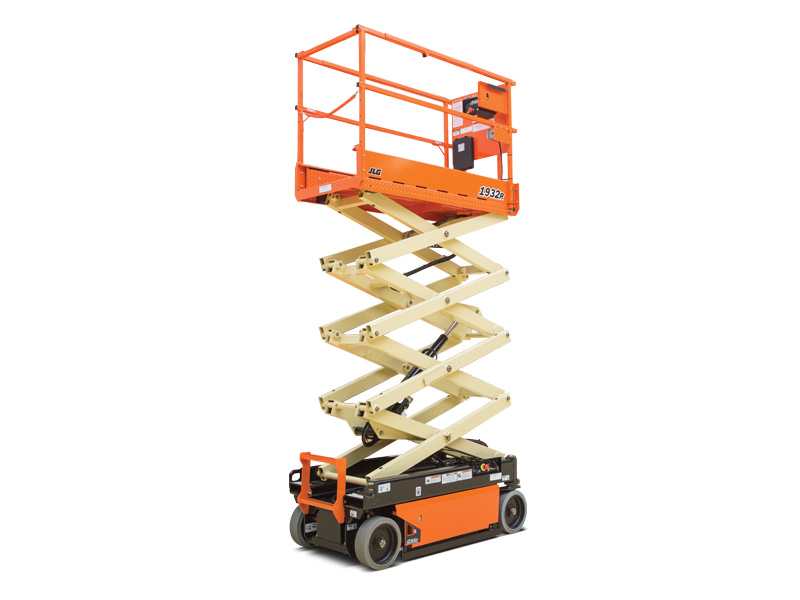 R Series electric scissor lifts are a rental-ready solution for all types of job sites. Offering greater affordability, reliability and serviceability, these scissor lifts have fewer parts and all-steel swing-out component trays. Their compact dimensions are ideal for confined spaces. Plus, the improved battery charger reduces guesswork by informing you on how your batteries are performing. 
Available Models: 1932R, 2632R, 3246R & 4054R
Platform Height: 19 – 32 ft
Machine Width: 2 ft 8 in. – 3 ft 10 in.
Working Height: 25 ft – 45 ft 3 in.

Active pothole protection provides increased ground clearance

Fewer parts and an improved battery charger for greater serviceability

All-steel platform and component doors and thicker rubber tires for added durability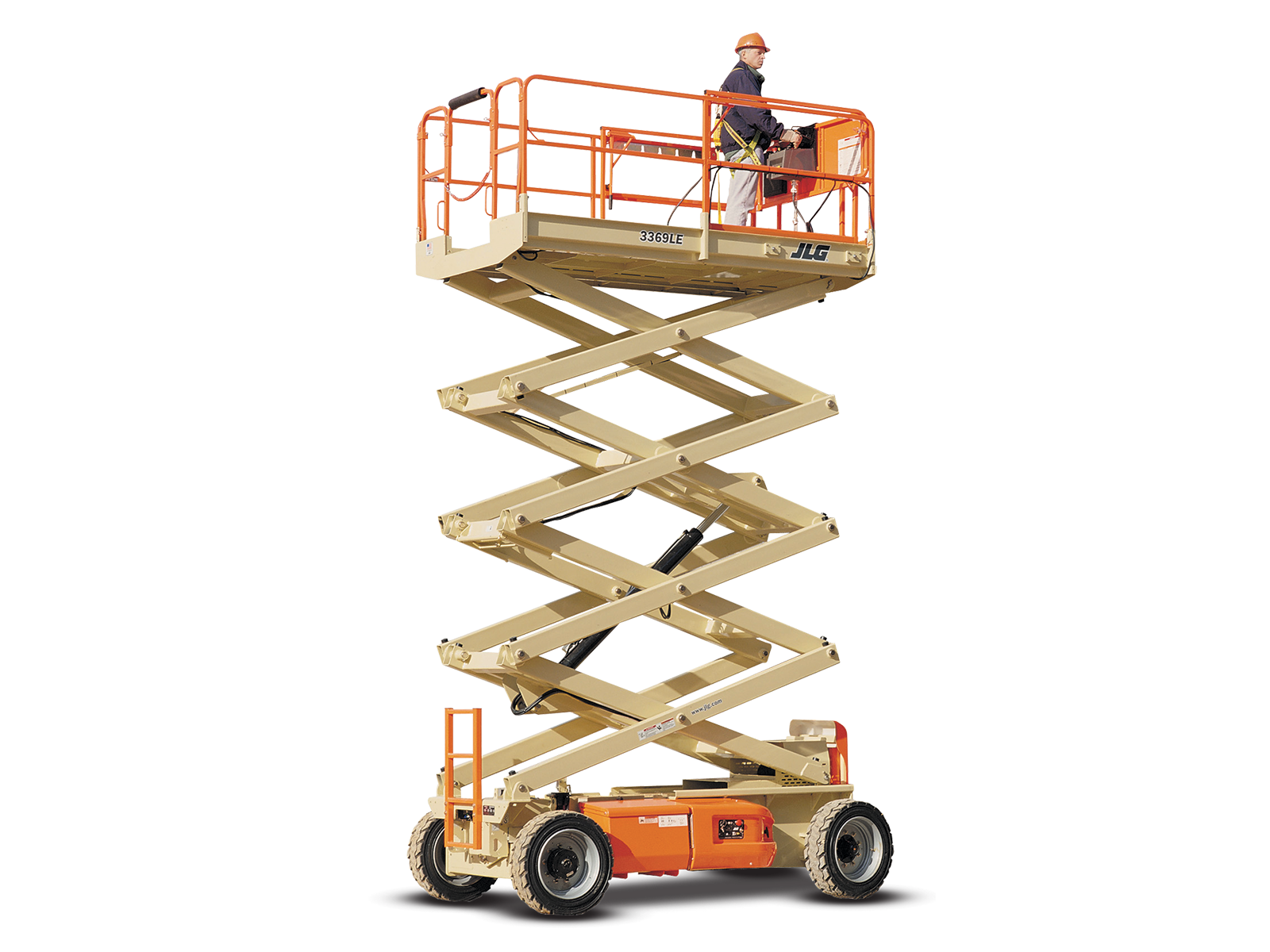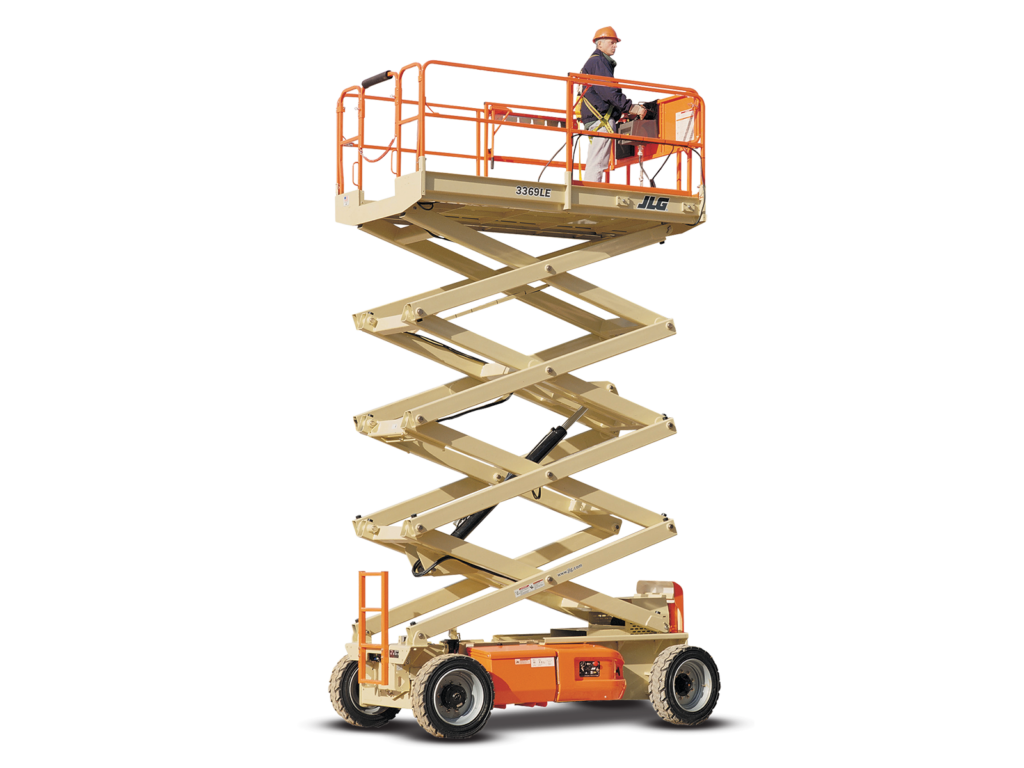 The JLG® LE Series features scissor lifts that are both heavy-duty and environmentally friendly. This series fits through standard double doorways to work inside or outside on the toughest or cleanest job sites. These tough machines offer superior on or off-slab performance; full-time automatic traction control; a standard oscillating axle and all-terrain, non-marking, foam filled tires.
Available Models: 3369LE, M3369LE, 4069LE & M4069LE
Platform Height: 33 – 40 ft
Platform Capacity: 800 – 1000 lb
Machine Width: 5 ft 9 in.

Superior performance on or off slab

Rugged terrain tires take you anywhere you want to go

With optional hydraulic leveling jacks, uneven terrain is no problem

Double the duty cycle of other scissor lifts so you can stay on the job longer