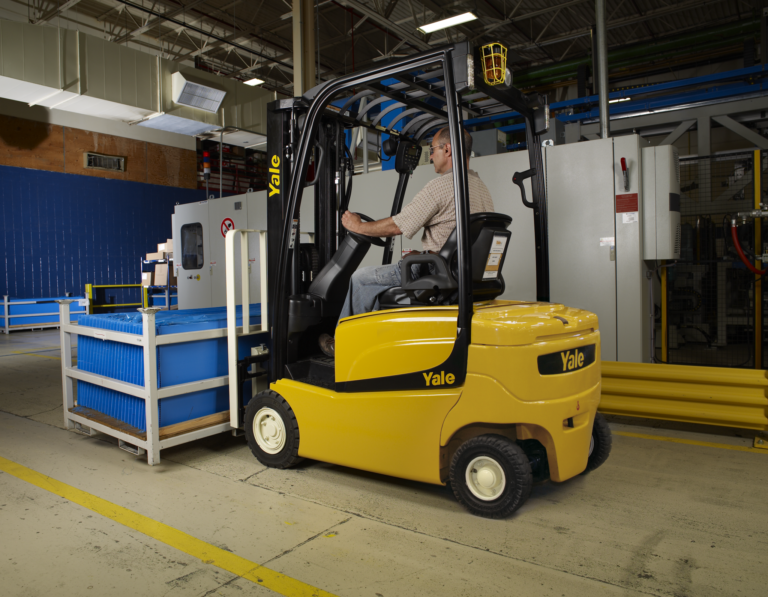 Four-Wheel Electric Forklift Trucks
The Yale Electric ERP030-040VF provides exceptional maneuverability, similar to a three-wheel truck, but with the added comfort and stability of a four-wheel forklift. Its Zero Turn Radius speeds up productivity. 
Tough, industrial applications require industrial grade electric rider forklift trucks that add productive value, operate at maximum uptime, perform at demanding performance levels, and require minimal cost to operate. Yale ERP030-040VF lift trucks are designed and built with Industrial Grade Critical Components, providing outstanding productive value and economic life. 
The ERP-VF series utilizes proven AC technology coupled with the Intellix VSM, providing enhanced performance throughout the usable battery discharge cycle. This highly efficient system also provides longer battery run time for increased throughput.
AC motors provide powerful acceleration, fast travel speeds (both with and without a load), and fast lift/lower speeds. The innovative Thermal Management System keeps productivity high while protecting key truck components.
Four Operator selectable performance modes and the innovative Extended Shift functionality allow the truck's performance to be tailored to the customer's application as well as the operator's skill level, increasing efficiency.
Operator comfort is enhanced on the ERP040VF with ample floor space, improved operator seat position, and non-cinching seat belt. Reverse driving is made easier with the rear drive handle and swivel seat options.
The Yale ERP030-040VF 4 Wheel Forklift:
Longer Battery Run Time & Easy Service Access 
Power-Assisted Braking System
CRUSH YOUR UTILITZATION WITH THE YALE ERP030 ELECTRIC FORKLIFT
Dual AC Drive Motors and Zero Turn Radius Steer Axle

AC technology coupled with the "Intellix" VSM, providing enhanced performance throughout the usable battery discharge cycle

Four operator selectable performance modes
KEY FEATURES AND PERFORMANCE
Thermal Management System keeps productivity high while protecting key truck components

Ultimate operator comfortability: ample floor space, improved operator seat position, rear-drive handle, swivel seat options, and non-cinching seat belt

Intellix VSM (Vehicle Systems Manager)continuously monitors and controls all major truck functions for efficiency and proper operation

According to the VDI EnerEnergy Cycle Standardized Test, the Yale ERP-VT/VF series provides the lowest energy consumption versus the competition

 Power Assisted Braking to reduce stress on key drive unit
| Model | Load Capacity (lbs.) | Turning Radius | Max Travel Speed (mph) | Max Lift Speed (ft/min) |
| --- | --- | --- | --- | --- |
| | | | | |
| | | | | |
| | | | | |