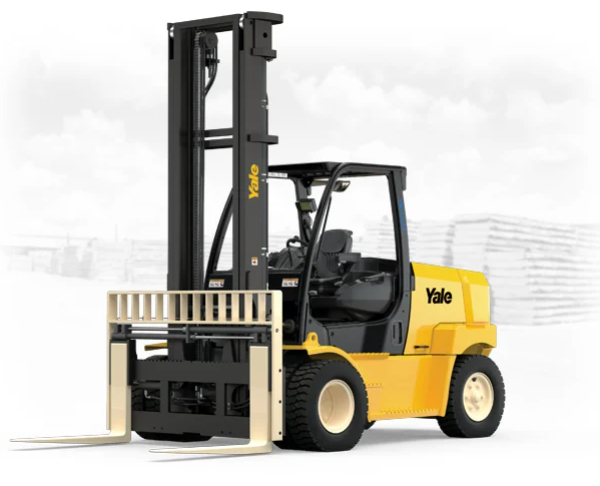 Four-Wheel Electric Forklift Trucks
Groundbreaking electric option delivers the ICE-like performance that heavy-duty applications require, with all the advantages of integrated lithium-ion battery power, including no emissions, no battery maintenance, and simple, fast charging.
Fast charging, more uptime
Indoor and outdoor capability
Operator comfort
Maneuverability
Fast-charging lithium-ion power for the touchiest applications
The ERP-VNL breaks new ground with lithium-ion power in a higher-capacity lift truck. It translates into more time working and less time charging and replacing batteries.
No battery maintenance required, operators simply plug in and charge with no extra steps
Fast charging, going from lift lock-out (12% state of charge) in less than 90 minutes, and remaining at 90% efficiency throughout operation
Longer overall service life than lead-acid battery power
Streamline your lift truck fleet with the multipurpose ERP-190VNL, designed to work both indoors and out. Say goodbye to separate trucks for different areas of your operation and slim down your fleet.
Set up operators for success, with features designed to keep them comfortable and productive, all shift long.
No emissions in operation or when charging
Low noise levels thanks to efficient electric power
Standard air ride seat avoids transmitting excess vibration to operator
Hydraulic mini-lever controls require less pressure to operate
Indoors or out, operators need to get in and out of a range of storage layouts. The ERP-VNL has the maneuverability to make it happen.
Shortened counterweight design enables reduced overall truck length
Turn assist system helps reduce turn radius and ability to move in tight spaces
| Model | Load Capacity (lbs.) | Load Centre | Battery Capacity Voltage |
| --- | --- | --- | --- |
| | | | 350V Integrated lithium-ion / Traction Motor Type - Permanent Magnet |
| | | | 350V Integrated lithium-ion / Traction Motor Type - Permanent Magnet |
| | | | 350V Integrated lithium-ion / Traction Motor Type - Permanent Magnet |
| | | | 350V Integrated lithium-ion / Traction Motor Type - Permanent Magnet |