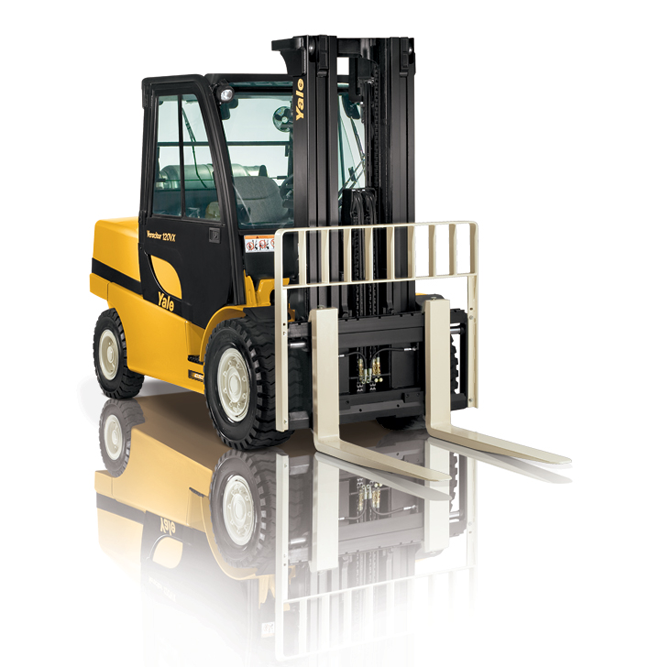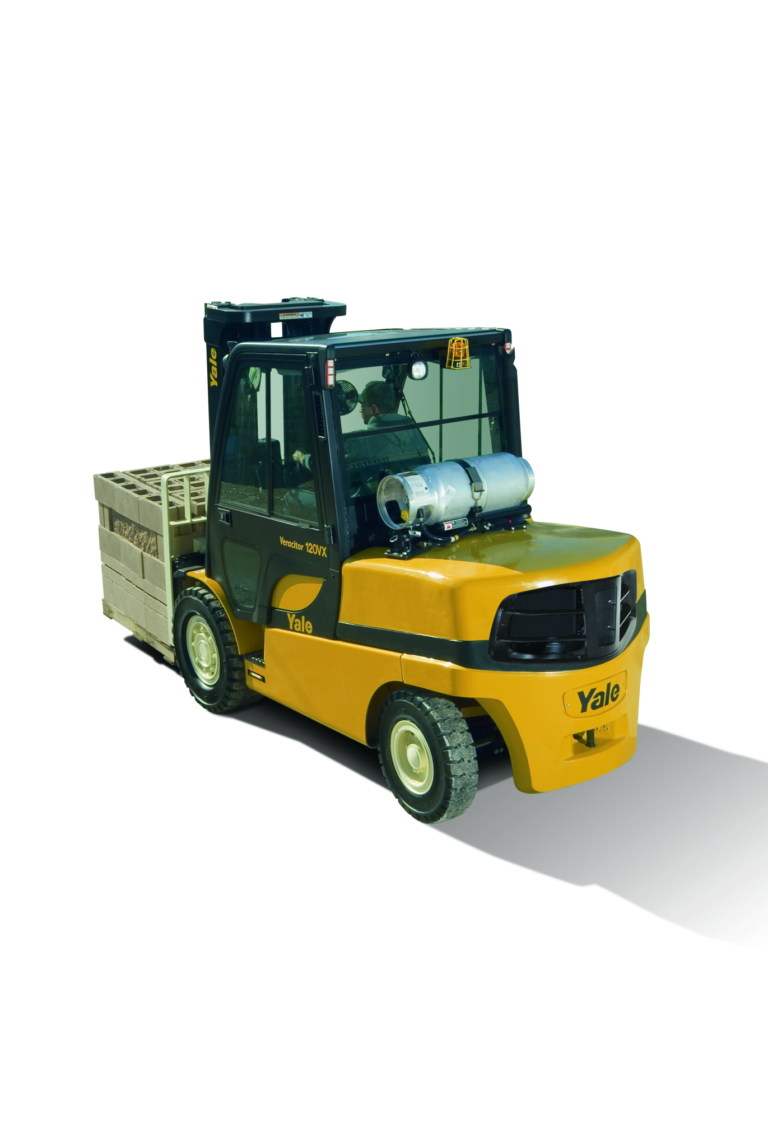 Veracitor® Pneumatic Tire Lift Truck
The Veracitor® GP080-120VX lift truck series delivers maximum performance for medium to heavy duty indoor and outdoor applications. By supplying various powertrain combinations, the series offers the flexibility to meet your application needs, while also providing standard features and options to maximize the productivity, efficiency and performance of your operations. 
 Powertrain combinations include PSI 4.3L V6 LPG, Kubota 3.8L LPG / Dual Fuel / DOC diesel, and turbo diesel engines
 ALL engines feature Yale® Flex Performance Technology™, selectable performance modes that provide the flexibility to maximize fuel economy or productivity to match application requirements
 Advanced Techtronix transmissions are built for durability and patented controllability, while extending tire and brake life up to 50%
 Ergonomic operator compartment includes optimized step height with non-slip tread, soft touch contoured hand grip and infinitely adjustable steer column
Productivity, Efficiency and Performance Enhancing Options:
On-demand cooling system matches cooling fan speed to engine temperature, maintaining optimum engine and transmission temperatures, virtually eliminating the possibility of overheating
On-demand hydraulic system featuring Accutouch mini-lever controls pumps oil only when required, reducing fuel consumption
Combi-cooler contains an individual oil cooler to maximize transmission heat dissipation
Full venting package draws air into the engine compartment from higher on the truck to enhance airflow and avoid radiator clogging
Fully sealed wet disc brakes virtually eliminate brake maintenance and often last the life of the truck. Premium force-cooled wet disc brakes are standard on GP100-120VX models and optional on GP080-090VX models.
For applications requiring the use of attachments; Yale® attachment ready models are available with a factory modified front end, which allow for seamless truck and Bolzoni Auramo attachment interface.
| Model | Load Capacity (lbs.) | Engine | Transmission | Max Travel Speed (mph) | Max Lift Speed (ft/min) |
| --- | --- | --- | --- | --- | --- |
| | | Kubota 3.8L LPG, Kubota Turbocharged 3.8L Diesel, Kubota 3.8L DOC Diesel, Kubota 3.8L Dual Fuel, PSI 4.3L LPG | Electronically Controlled Powershift 1 & 2 Speeds, Techtronix100 Electronic 1 Speed, Techtronix100X Electronic 2 Speed | | |
| | | Kubota 3.8L LPG, Kubota Turbocharged 3.8L Diesel, Kubota 3.8L DOC Diesel, Kubota 3.8L Dual Fuel, PSI 4.3L LPG | Electronically Controlled Powershift 1 & 2 Speeds, Techtronix100 Electronic 1 Speed, Techtronix100X Electronic 2 Speed | | |
| | | Kubota 3.8L LPG, Kubota Turbocharged 3.8L Diesel, Kubota 3.8L DOC Diesel, Kubota 3.8L Dual Fuel, PSI 4.3L LPG | Electronically Controlled Powershift 2 Speed, Techtronix100X Electronic 2 Speed | | |
| | | Kubota 3.8L LPG, Kubota Turbocharged 3.8L Diesel, Kubota 3.8L DOC Diesel, Kubota 3.8L Dual Fuel, PSI 4.3L LPG | Electronically Controlled Powershift 2 Speed, Techtronix100X Electronic 2 Speed | | |
| | | Kubota 3.8L LPG, Kubota Turbocharged 3.8L Diesel, Kubota 3.8L DOC Diesel, Kubota 3.8L Dual Fuel, PSI 4.3L LPG | Electronically Controlled Powershift 2 Speed, Techtronix100X Electronic 2 Speed | | |