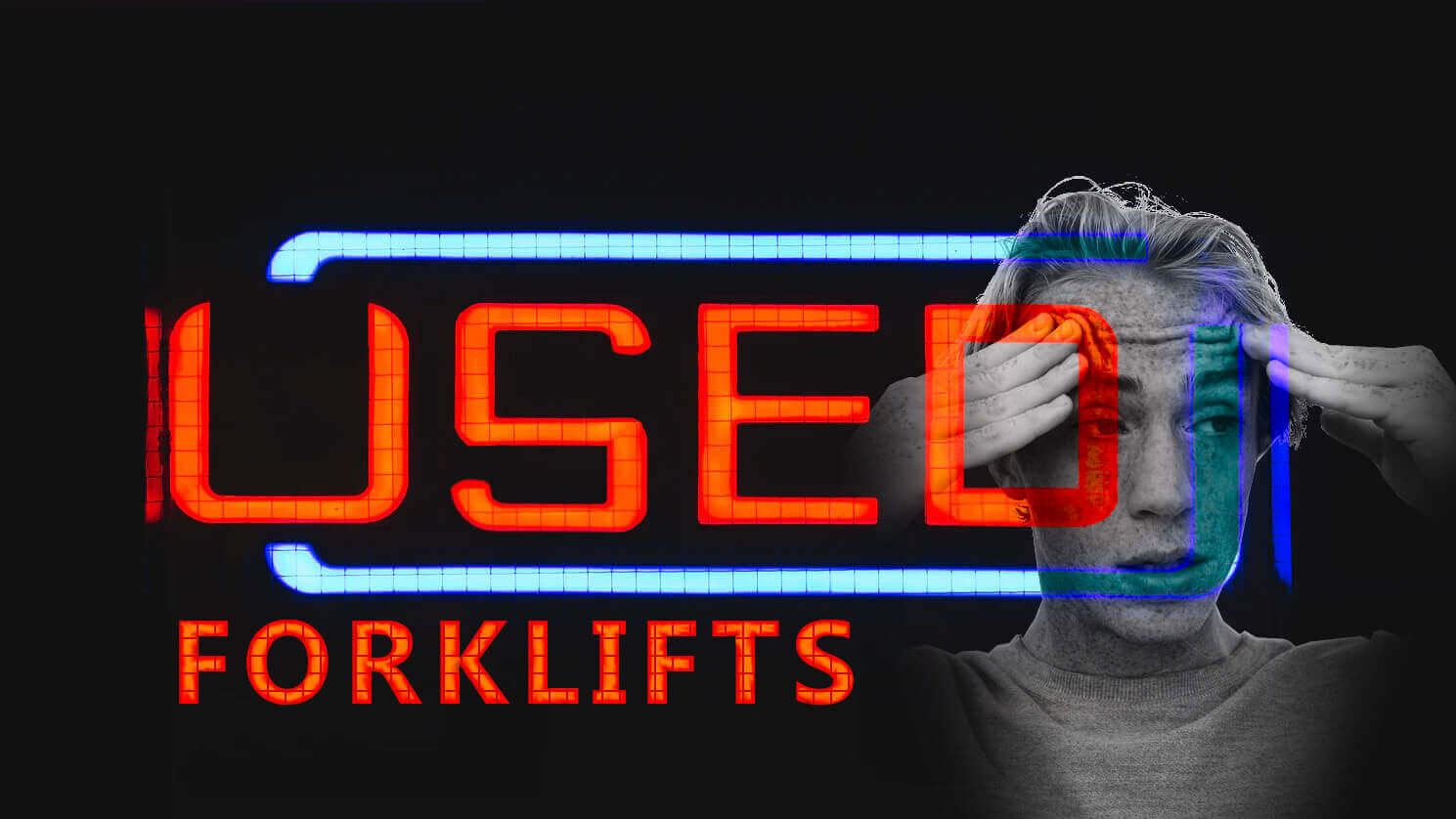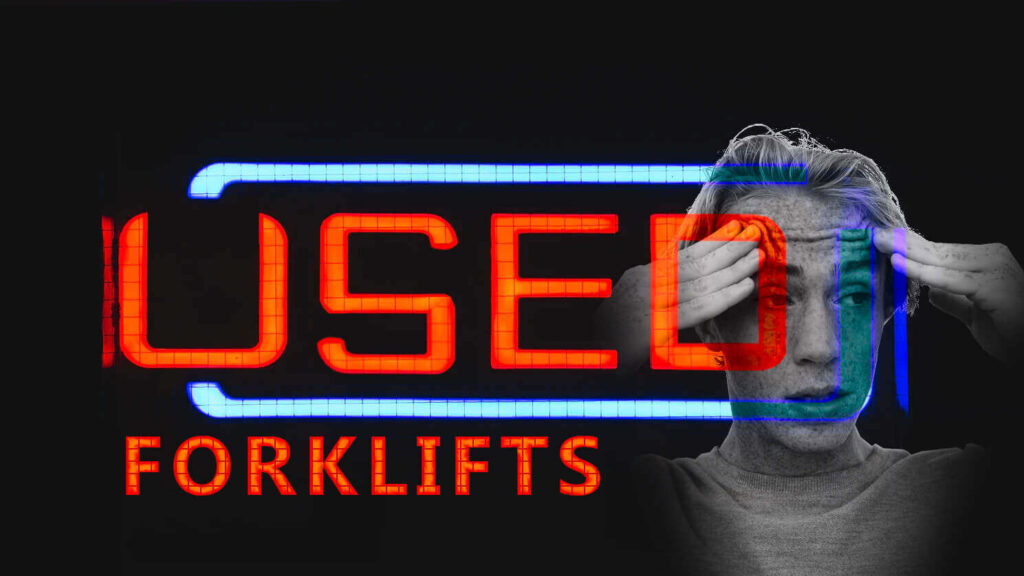 9 Things to Look for When Buying a Used Forklift
Sometimes you just can't convince yourself to spend the extra money on a new forklift — even if it is a lease.
Or you have low hours of operation per week and cannot justify spending more money on something that you are only going to be using 20 hours per week.
If either of these is the case, shift your sights over to the used forklift market to save a little money. Or maybe — after reading this, a lot of money.
Below is a list of steps I have created to help make your used forklift search a breeze. Click on an option to jump to that section.
Where to Shop for a Used Forklift
Look local!
Before you do anything, look within your area for forklift dealers.
Every material handling company will charge freight for delivering equipment to you.
Like any large purchase — besides you Amazon — you will be charged for the gas and time it takes to deliver the forklift to you.
So in order to save some on costs, check your areas first.
This can be as simple as going on google and typing in, forklift dealers near me.
Look at dealer websites and even check out some auction boards.
Just keep in mind that auctions are much higher risks because there is less information on the equipment background and you won't know how well it was taken care of or what application it was used in.
A reputable used forklift seller will have certifications and safety regulations passed and will even offer a 30-day warranty with options that include both the powertrain and the parts and labor.
What to Look for When Buying a Used Forklift
Knowing when to buy a used forklift is easy, but figuring out how to inspect a forklift can be tough, especially if you have little knowledge of the components that drive most of your ownership costs and maintenance.
These tips will give you some guidance to make a good choice.
1. Check the Forks For Damage
When inspecting a forklift you'll most likely start in the front. Look for cracks, bends or any other signs of wear.
Cracks will be the most worrisome because they are early signs that your forks will need to be replaced soon.
A spot that is sometimes forgotten about is the heel of the fork blade. Look closely at the thickness.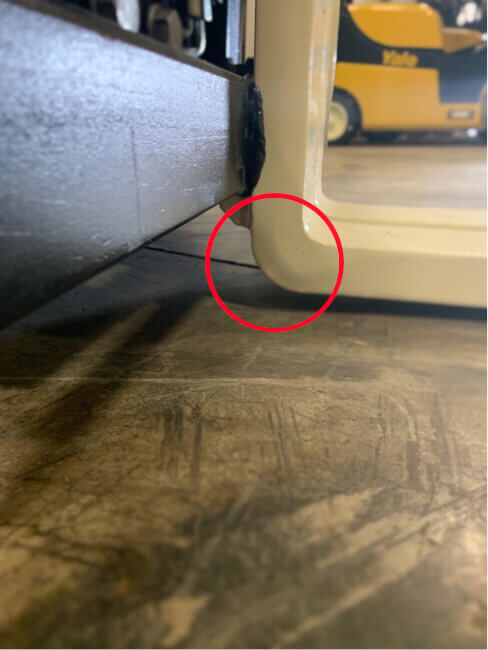 If the back of the blade does not match the thickness of the upright fork shank (the part of the fork connected to the carriage) then your forks are worn.
2. Look for Gaps in the Lift Chains
While moving your way up from the forks, look along the mast for any cracks or welding marks where cracks were fixed.
A poor weld will affect the structural integrity of the mast.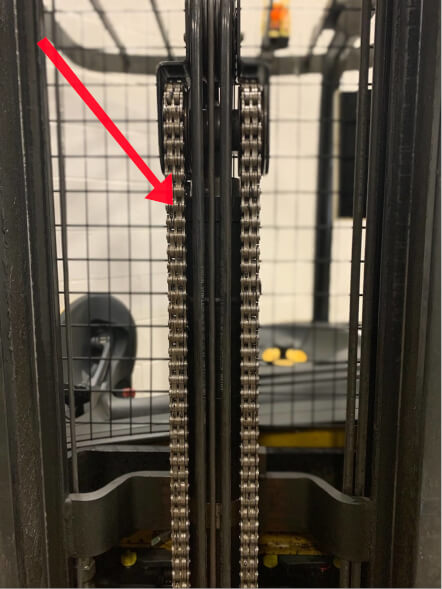 When looking in the middle of the mast you should view the lift chains for any missing or corroded links/pins.
3. Watch How Smoothly the Mast Operates
Have the dealer/seller raise the forks high enough to extend a second or third mast.
Any signs of a hiccup in the process means that either the link chain needs some fixing, the mast rollers are worn or the mast rollers have not been lubricated/well-maintained.
If the mast rollers are worn they will be a lopsided shape (more oval) and not a perfectly round wheel.
4. Look at the Tires
Get down and feel/look for any signs of chunking.
This look like a bite was taken out of the tire, below is a picture for your reference.

Another tell-tale sign that the tires are in rough shape is when the tread is low or non-existent.
The first area to look at is the wear line or the safety-line.