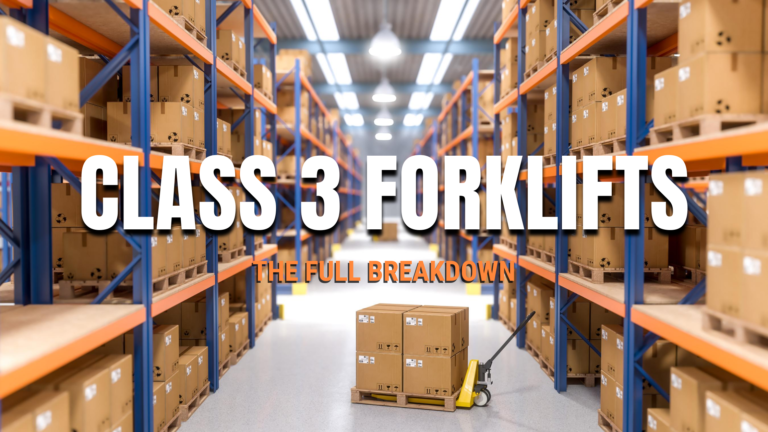 If you're a warehouse manager then you probably already know that throughput and up-time are two of your most important metrics.
However, there are several ways to get there and it not only varies on your application but also on your equipment. 
To get there you need to be using the right equipment at the most effective times. 
Today I'm going to help you understand how to do that with class 3 forklifts, often referred to as pallet jacks or electric motorized hand trucks.
Class 3 Forklift Model Types
There are three main types of class 3 forklifts.
Pallet Jacks: A manual or electric powered tool used to lift and move pallets. Most often used to unload trailers or move loads around a warehouse quickly.
Pallet Stackers: An electric walk behind pallet jack that has a mast for lifting pallets to heights. They are used to lift and move pallets in small spaces and over short distances.
Tow Tractors: An electric powered truck used to carry low-level picking and horizontal transportation around a warehouse. They use a hitch on the back to pull long lines of carts and materials.
Load Capacity– How much weight the forklift can lift up and move.
Overall Lift Height– The maximum height (in inches) that a specific forklift model can lift. This varies based on the model and mast stages.
Turning Radius– The smallest circular turn that the forklift is able to make. This is important when factoring in the amount of space an aisle has between pallet racks.
Max Travel Speed– Varies based on whether the pallet jack is manual or electric. Most electric pallet jacks travel between 3.5 mph to 9 mph.
Battery Voltage– The electric pallet trucks have 2 types of batteries, 24V and 34V (for tow tractors).
Fork Length– The standard length is 48 inches but there are also options for 36 in., 42 in., 54 in., 60 in., 84 in, 93 in. and 96 in. forks.
There are 4 different types of pallet jacks. Below we take a brief look at each type and where they are best used in a warehouse setting.
Manual Pallet Jacks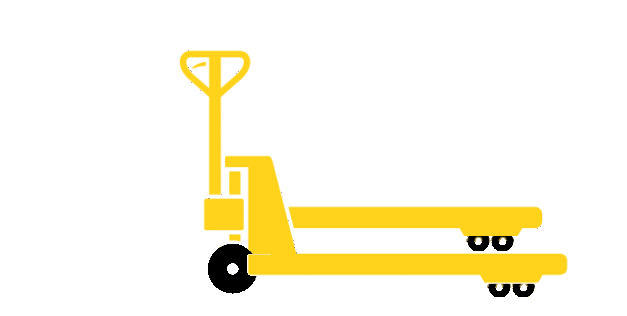 A tool that is used to push pallets across horizontal distances.
They do not lift objects more than 6 inches off the ground. 
Operators can pump the handle up and down to raise the wheels and lift the forks from the ground level. 
The trigger on the handle will lower the forks back to the ground when pushed. 
Manual pallet jacks are most common in applications that require tight movements and short distances of travel. 
What are Manual Pallet Jacks Used For? >>>Find Out Here
Best Use Cases: Most suitable for moving loads in tight spaces and over short distances. 
Electric Walkie Pallet Jacks
Battery powered and built with the option for a load backrest to prevent damage to pallets when carrying several pallets. 
The electric lever will lift the forks and allow for travel speeds up to 3.7 mph, saving operators the physical labor of pushing a pallet around. 
Typically, walkie pallet jacks are used in warehouses that require some travel from loading stations to docking areas. 
However, instead of transporting pallets across areas, walkie pallets jacks are used most commonly to unload trailers. 
Best Use Cases: Moving loads through narrow aisles and quickly loading and unloading trailers in the loading dock area. 
Electric End-Rider Pallet Jack
A faster version of the walkie. 
The end rider allows operators to stand on a platform attached to the truck, thus removing any physical labor when moving or lifting pallets.
These machines can travel up to 7 mph, providing applications with quicker stock to shelf times and faster transport across warehouses. 
Best Use Cases: Dock work, transporting goods and order picking pallets. The best option for moving pallets across far distances within a warehouse. 
Multi-Level Order Selector
A unique pallet jack that gives the operator the ability to move and load pallets onto low level shelves. 
Unlike the other pallet jacks, the order selector provides the vertical picking, not just horizontal.
Best Use Cases: Most ideal for crossdocking, load shuttling and order picking. 
There are 3 different types of pallet stackers. They all share the same functions but have slightly different go to market applications. 
Pallet Reach Stacker
More economical than sit-down forklifts. 
They are best for for applications with lower throughput and the need to stack pallets no higher than 16 feet. 
Has a reach stroke up to 24″ and can lift loads up to 189 inches high.
Available in both double and triple mast structures.
Can navigate narrow aisles making unloading and loading pallets onto shelves  
Best Use Cases: Manufacturing and warehousing applications where space utilization is a consideration and load widths vary. They are common in retail stock rooms, automotive part stores and manufacturing production lines. 
Counterbalanced Stacker
A cheaper option to traditional class 2 reach trucks. 
Due to tight turn radius and a small carriage the counterbalanced stacker can work in spaces that traditional forklifts will have trouble operating in.
The operator walks behind the carriage and remains at the ground level while lifting loads (max lift height is 15 feet). 
Best Use Cases: Stacking closed or open pallets in low to mid-high racking. Ideal for intense manufacturing warehouse operations with confined spaces. 
Electric Saddle Stacker
By narrowing the required aisle width, saddle stackers provide you with the ability to stack more products in the same size room (when compared to counterbalance and traditional forklifts). 
These are great for companies that need to do more with less space. 
Unlike typical pallet jacks, straddle stackers can lift loads up to 183″, meaning you do not need a reach truck for mid-level lift heights. 
Best Use Cases: Tight store rooms that have racking or shelves with multiple levels. Small spaces that have short distances of horizontal transportation. 
Tow tractors are machines used for transporting warehouse materials in carts or pallets. They are mainly used for horizontal transportation. Thus, they are built to travel up to 15 mph.
Electric Tow Trucks
Designed for horizontal transportation, such as towing carts for batch order picking. 
A heavy load capacity allows for the tow truck to comfortably pull up to 15,000 lbs. without any trouble. 
The mid tow tractor has an optional feature that allows the operator platform to rise 2-3 levels high. 
Best Use Cases: Pulling long loads of product or material across a warehouse. Tow trucks can be seen most often in airports, auto manufacturing plants and in warehouses that have thousands upon thousands of individual boxes or units. 
Pallet Jack Battery Details & Options
Every Class 3 forklift is powered by either manual labor and hydraulics or an electric battery.
There are 2 ways to deliver power. Lead-Acid batteries and Lithium-Ion batteries. 
The battery is the most expensive part of a class 3 forklift, costing anywhere from $2,000 to $4,000 for a new industrial grade battery.
24V batteries are the most common pallet jack battery, and are used for every pallet jack, pallet stacker and tow tractor. 
24V industrial batteries cost anywhere from $2,500 to $4,000 brand new and are about $1,800 to $3,000 for used.
The one alternative and cheaper option that we sometimes see is when a company buys 4 6v batteries instead of one industrial battery. 
This is to save on upfront costs, as a new 6v battery can be purchased for about $250 and can also be charged via a standard wall plug. 
However, the upfront savings end up costing you on the backend. 
6v batteries rarely last longer than a full year, whereas a 24v industrial battery will run for 5-6 years before degradation and corrosion become factors.  
Therefore, when making a decision on purchasing a new or used forklift you always want to get a high-quality battery with little to no prior use.
Battery Options
Lead-Acid
The cheaper batteries. 
Since they are an older and less efficient battery, lead-acid options are considerably cheaper. However, like many cases, you get what you pay for.
There are two kinds, thin-plate and tubular lead-acid batteries.
Thin-plates are a newer and more advanced battery when compared to tubular.
They have a higher upfront cost but longer run time, quicker charging, and less maintenance.
High upkeep is required to keep tubular lead-acid batteries running well and charging times can shoot down your uptime.
If you are running one-shift a day for 3-5 days a week this could be a good fit for you, it depends heavily on your application. 
Lithium-Ion
The alternative and more expensive to lead-acid, lithium-ion batteries bring greater ROI due to extended battery lifespan (2-3X longer) and faster charge times.
These batteries are used most in warehouses that require a heavy workload on their fleet.
This means that the forklifts are run 2-3 shifts a day and are required to have fast charge times in order to take advantage of short operator breaks (lunch break or shift change).
Lithium batteries provide operation managers the ability to utilize fast charging or opportunity charging and they do not experience as quick of a discharge rate over their lifespan.
Lastly, these batteries need very little charging space which frees up space for more SKUs or operations.
Lithium-ion batteries are clearly the better battery with higher returns, but they aren't needed in every application.
Some places only require single shifts and thus the added price to purchase a lithium-ion battery would not make sense.
View the head to head comparison of lead-acid vs lithium-ion batteries here.
Conclusion
I hope this article saves you from making common equipment mistakes.
But knowing your equipment isn't enough, though. You still need to know what battery option is best for you operation and how to service your equipment. 
So do you know what type of class 3 forklift is best for your operation? 
Most frequent questions and answers
Cross docking is when full pallets are taken at receiving and then driven directly to shipping to go out on a truck.  The pallet never goes into storage. 
Horizontal transport refers to moving pallets from dock to stock, or stock to shipping by MHE.
Order picking is the process of going through the warehouse and picking the items in an order. This is same as order picking.
Receive our newest blog posts