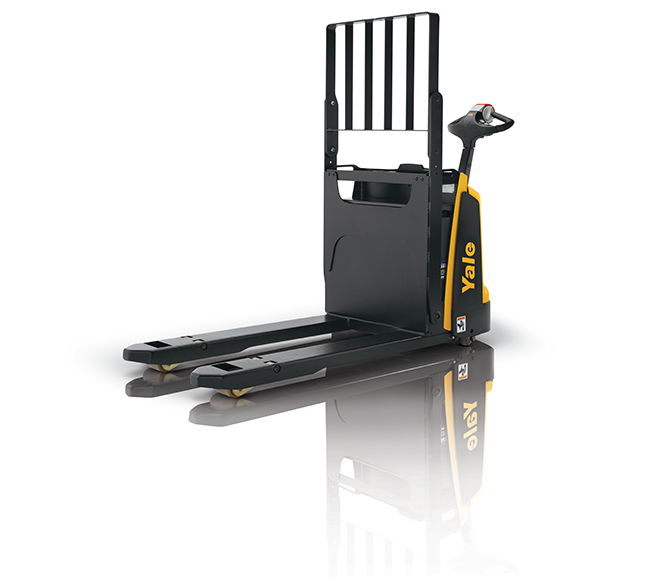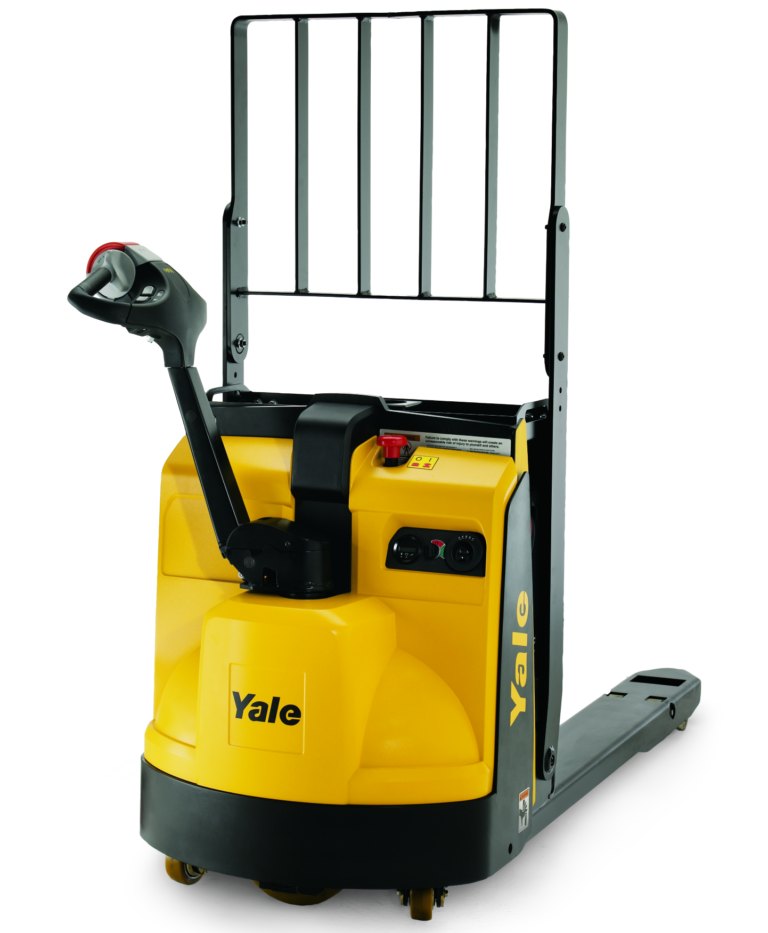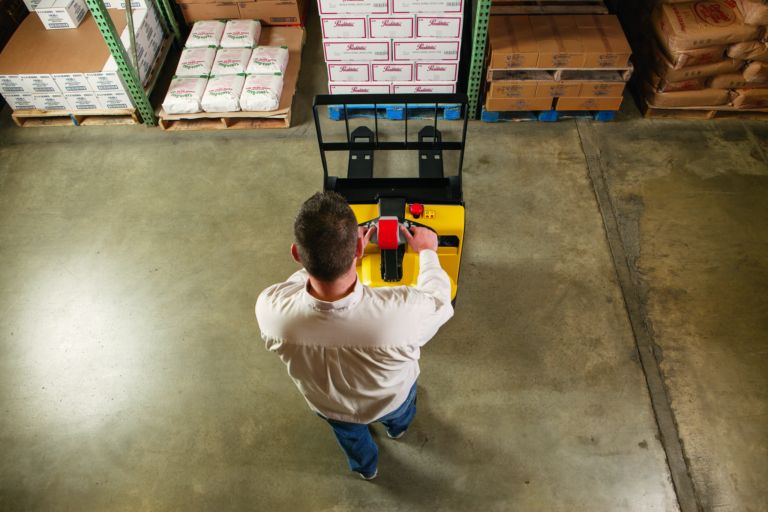 Motorized Walkie Pallet Truck
Does your busy operation require moving loads in and out of tight spaces? If so, the Yale MPB045VG walkie pallet truck engineered with a small footprint and exclusive productivity-enhancing features, will give you the confidence to move loads quickly and efficiently.
And with exceptional ergonomic comfort, along with a heavy duty, reliable design, the MPB045VG is the key to driving your operation to new levels of productivity, year after year.
Mid-mounted handle brings operators closer to the truck, maximizing visibility and maneuverability, and giving it the largest run zone in the industry

Exclusive Yale® Smart Lift™ allows operators to begin transporting pallets before the unit is at full lift, helping to reduce cycle times up to 25%

Yale® Smart Slow Down™ automatically reduces truck speed in cornering, helping provide greater load stability and operator confidence

Heavy duty fork frame and linkage with HTX bushings allow the truck to handle the most demanding walkie applications

Available with optional Lithium-Ion battery pack, helping achieve greater productivity and charging flexibility, while eliminating lead acid battery replacements and maintenance
The optional Direct Store Delivery (DSD) package with lithium-ion battery and exclusive handle design provide optimum control and maneuverability in and out of trailers and in tight store aisles
The Yale MPB045VG Walkie Pallet Jack Comes Packed With:
3 separate performance modes
11% more productive when unloading trailers
SAVE TIME AND MONEY WITH THE YALE APPS POWERED WALKIE PALLET TRUCK
Longer battery life compared to lead-acid batteries

23% less charging time

Savings of $1,800+  over 5 years compared to lead-acid batteries

Zero maintenance required 
KEY FEATURES AND PERFORMANCE
The handle features the largest run zone in the forklift industry

Yale Smart slow down sensor

Yale Smart Lift technology reduces cycle times

2X thicker bushings

"X" groove bushings and lubrication points at all linkage connections

Optional casters and tabs to reduce product damage and aid in extra stability when required 
| Model | Load Capacity (lbs.) | Battery | Max Travel Speed (mph) | Stacking Height 1st Row |
| --- | --- | --- | --- | --- |
| | | | | |
Electric Walkie Pallet Jacks FAQ:
An Electric Walkie Pallet Jack is a type of forklift that is powered by an electric battery and accelerates from pulling the throttle on the handle. This allows the operator to walk behind the pallet jack without using force to push it. The walkie pallet jacks are used to move pallets quickly across warehouses, keeping the forks low to the ground. 
The company you work for provides certification to operate pallet jacks. OSHA (Occupational Safety and Health Administration) does not have a standard certification, but it does ask companies to have a training program for workers that will be using pallet jacks.